PREFERABLY, THE BIGGER …THE BETTER.
If there's anything Post Malone loves more than beer pong, it's pyrotechnics and flames.
After a monumental 106 show tour highlighting his 2018 Grammy-nominated album, beerbongs and bentley's, Post Malone continued to climb the ranks to become one of the world's biggest genre-bending superstars. He smashed Spotify streaming records; put his name on the bill for New York's Governer's Ball, Lollapalooza, and Super Bowl LIII; and topped it all off by releasing his third album: Hollywood's Bleeding.
8 days after the release, he was on the road with Swae Lee and Tyla Yaweh as The Runaway Tour kicked off in Tacoma, Washington. It wouldn't be until November 2nd in Arlington, Texas that Post would push his already intense touring set-up of Pyrotek's trademark Dragons, Fire-screens, and a wide array of vibrant pyrotechnics to the next level.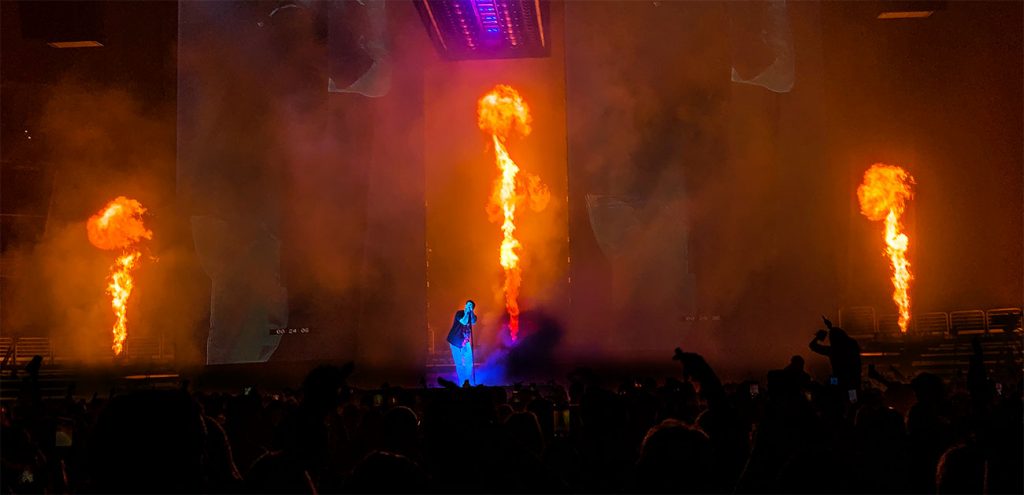 The request was simple: Post wasn't going to trot out his standard touring rig when headlining a self-produced festival in his hometown. Especially when that festival is being held at AT&T Stadium with sponsors like Bud Light, Crocs, Igloo, and Nerf.
Following the creative guidance of Post Malone's Creative Director, Lewis James, and PostyFest's creative team, Fireplay, our team at Pyrotek faced the challenge to create impactful moments for a show of this caliber. With some innovative thinking and over 2400lbs of propane, PostyFest succeeded in reminding everyone exactly why they say, everything is bigger in Texas.
The main stage took Post's standard thrust set-up and added a square catwalk that gave the artist more real estate to move among the massive general admission audience of the football stadium. The catwalk was also paired with a series of trusses that carefully outlined the area overhead with GLP lighting fixtures and a mix of over 150 Sparkleburst and Falling Star pyrotechnics devices including an upstage waterfall look. Back on the ground, each corner hosted additional varying mines and comets among a few other surprises for the Dallas crowd including a series of Dragon Tails, Dragon Heads, and Fire-screens lining the three downstage edges.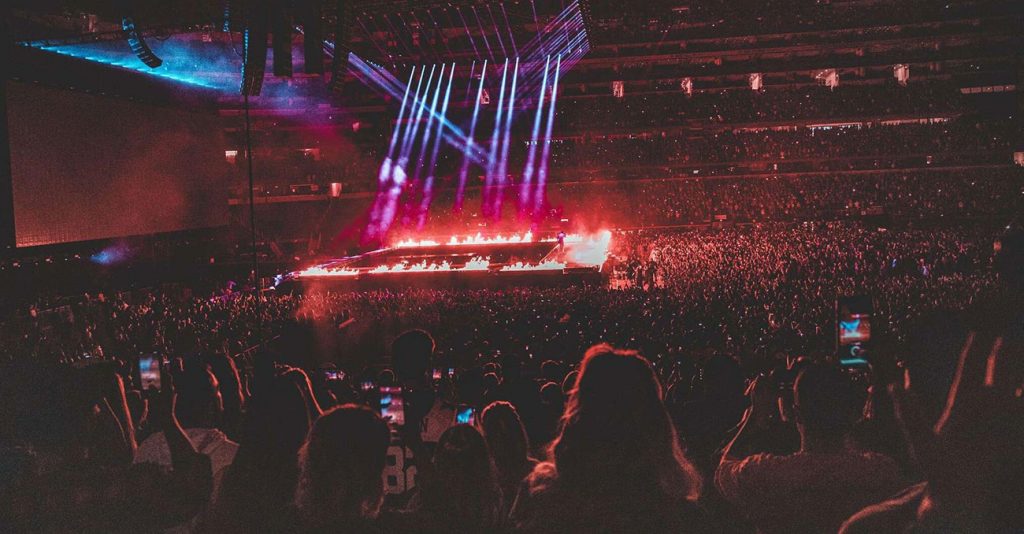 These units took the flame looks from Posty's Runaway rig and put them front and center instead of parallel and in-between a pair of towering 20-foot video walls that framed Malone as he traveled down his usual runway. This didn't just add more power to songs like "I Fall Apart" and "Take What You Want"… it also substantially turned up the heat. Our teams worked directly with designers and production early on to ensure the safety of all on stage and every fan in the venue through the entire show — including an over the top encore of Malone's chart-scorching hits — rockstar and Congratulations.
PostyFest solidified its place in a league of its own, similar to how Post Malone has carved out his own unique path to the top of the music industry.
AND TOGETHER, WE LEFT THEM SAYING WOW.